If you've been keeping up with the latest social media buzz, you might have heard about Threads – the new kid on the block built by the team at Instagram, launched last month.
This platform is all about spicing up your social experience by focusing on sharing and connecting through text.
What Can You Do on Threads?
Unlike Instagram, which is mostly about photos and videos, Threads is more focused on sharing text and links, while still offering photo and video-sharing capabilities.
You can write posts up to 500 characters and even upload videos up to 5 minutes long!
You can also follow and see posts from your favorite people or organizations you care about on Threads.
Plus, since it's like an extension of Instagram, you can easily follow all those folks you already do on Instagram.
Not Sure How to Create a Threads Profile? We've Got You Covered!
First thing first, you'll need to have an Instagram account in order to create a Threads profile. If you don't have one yet, follow this link to create an Instagram account. If you already have an Instagram account, follow these steps:
Step #1
Download the Threads app from the App Store or Google Play Store.
Step #2
When you open Threads, you'll see "Log in with Instagram" at the bottom.
Tap on it and choose the Instagram account you want to use for your Threads profile.
If you are signed in to multiple accounts, you can switch between them by tapping "Switch accounts".
Step #3
Once you've chosen the account, you'll be prompted to complete your Threads profile. You can add a profile picture, a bio, or a link if you want.
You can choose to import your info from Instagram or do it later if you prefer.
Keep in mind that you won't be able to change your Threads username since it's linked to your Instagram account.
Step #4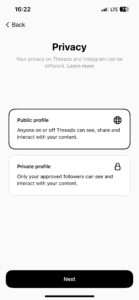 Now, you have the option to set your Threads profile either as public or private. It's up to you and your privacy preferences.
Step #5
Threads will ask if you want to follow all the accounts you follow on Instagram.
No pressure, you can totally skip this step if you'd like.
Step #6
Finally, take a moment to review the terms and policies. Once you're good with everything, just tap on "Join Threads", and voilà!
You now have your very own Threads profile. 
A few other things you should know about Threads
Threads isn't for everyone.
According to Instagram's guidelines, users must be at least 13 years old. If you're under 16 (or 18 in some countries), you will automatically have a private account when you join. 
You can create a Threads profile through the Instagram app.
Just go to your Instagram profile, and click on the three horizontal lines in the upper right-hand corner. Then tap on "Threads". If you don't have the Threads app already, it'll prompt you to download it.
Your Threads username is tied to your Instagram username.
So, if you want to change your Threads username, you'll need to change it on Instagram.
Need a break? You can schedule break reminders on Threads!
From your profile, simply tap on Settings (two horizontal lines) in the top right-hand corner, then tap "Account".
From there, choose "Take a break" and pick how much consecutive time you want to scroll freely before the app nudges you to take a break and do something else outside the app.  
Remember, Threads and Instagram are linked.
So, if you deactivate your Instagram account, your Threads account will also be deactivated automatically.
Do I Need to Create a Threads Account for My Business?
Well, it really depends. It might be too early to decide, but here are a few questions to ask yourself to figure out if joining the hype is worth it.
Are your audience or customers on Threads? If they're not hanging out there, it might not be the best use of your resources.
Have you checked if your competitors have already jumped on the Threads bandwagon? If they're already there, you might want to consider joining to stay in the game.
Most importantly, do you have the resources to manage your Threads profile? It takes time and effort to keep it active and engaging, so make sure you're up for the task.
Take these factors into account before making a decision. And remember, it's okay to take a wait-and-see approach if you're not sure. Just stay informed and make the best choice for your business.
In conclusion, Threads presents an exciting new platform for those looking to enhance their social media experience beyond Instagram's traditional focus on images and videos.
And if you're searching for social media consultants in Lafayette, LA, to boost your social media game, contact us today for a free consultation to discover how we can help you succeed through our expert advice on leveraging social media to achieve your business goals!